Local restaurants raise money for breast cancer prevention
ATLANTA (September 16, 2013) – CentraArchy Restaurants – New York Prime, California Dreaming, The Tavern at Phipps, Chophouse New Orleans, Carolina Roadhouse, Joey D's Oak Room, Chophouse '47, Gulfstream Café and Fiesta del Burro Loco – go pink this October, launching a month-long campaign in support of Susan G. Komen for the Cure® during National Breast Cancer Awareness Month with a limited edition dessert martini, Pink Kiss.
Throughout the month of October, 50% of all Pink Kiss sales will benefit breast cancer prevention, raising funds and awareness for their local communities. Additionally, all the restaurants' staff will be donned in pink, along with the golf tees at New York Prime.
Together, let's win the fight against breast cancer. #ThinkPink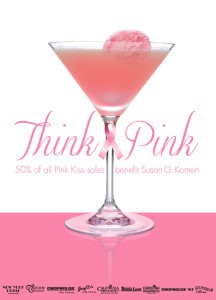 Return to News