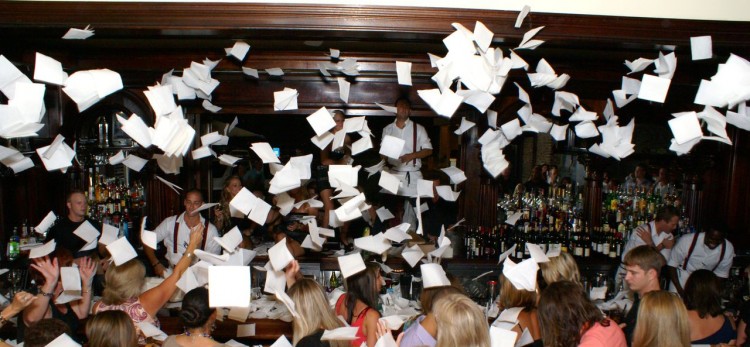 Anniversary Party is on October 13th
ATLANTA (October 9, 2012) – The Tavern at Phipps is set to host a spectacular, fun-filled night to celebrate their 20th Anniversary this Saturday, October 13, 2012 from 6:30 p.m. – 12:30 a.m. This memorable event is open to the public, with free admission. The night will feature past and present flair bartenders, including a fellow Buckhead entrepreneur. Bartenders will take turns entertaining the crowd as well as hold a competition. Anticipate plenty of dancing, live deejay, an extended patio and Atlanta's "best looking staff".
In October 1992 The Tavern opened its doors at Phipps Plaza and began an advantageous relationship with its Buckhead neighbors. Twenty years later, the Tavern is an Atlanta fixture with many of the same staff and guests frequenting the popular restaurant and bar.
On this day, "we celebrate our loyal guests, dedicated staff and quality purveyors for their continuing support as partners in our growth," said Greg Greenbaum, proprietor of The Tavern at Phipps.
The Tavern is known for its big portions and great variety, offering many signature items including: extravagant salads, authentic New Orleans po'boys, Carnegie Deli pastrami and the notable crowd pleaser, eight varieties of Tavern chips- a heaping pile of crisp tortilla chips layered with ingredients such as andouille sausage, barbecue chicken, crawfish, creamy spinach or lobster sauce.
Offering live entertainment nightly, including Country Night every Saturday. The Tavern at Phipps is located at 3500 Peachtree Road, Atlanta, GA 30326 and is open daily at 11:00 a.m. Parking is available throughout Phipps Plaza. For more information, call 404-814-9640 or visit www.facebook.com/thetavernatphipps.
Cue the napkins… #tavernatphipps
Return to News